You are here:
RealPlayer Downloader
RealPlayer

Downloader

RealPlayer Downloader automatically builds a list of the Flash videos you view in your web browser. You can save them to your hard drive with one click.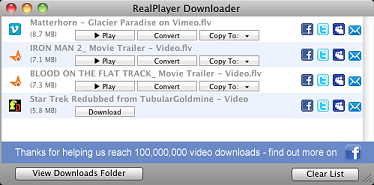 How to Download
When there is downloadable content on a web page, the RealPlayer Downloader icon (

) appears in the Dock. The number on the icon shows the number of downloadable files available to you.
Open RealPlayer Downloader to view and select files you can download.
To save a file from the list, click Download.
To remove a file from the list, select the file and press Delete on your keyboard.
The Download button changes to Play when the file download is complete.
Any files you save are stored in the RealPlayer Downloads folder inside your Movies folder. (You can change this location by opening RealPlayer Downloader > Preferences.) Click on a filename in the RealPlayer Downloads folder to rename the file.
Now What?

Play Downloaded Files

Convert Downloaded Files

Copy Downloaded Files to a Device

Share Downloaded Files
Good to Know
When you install RealPlayer, you have the option to add the RealPlayer Downloader agent

(small program that operates constantly "in the background") to your Login items. The agent looks for downloadable content while you are viewing web pages. If you chose Don't Add Agent, you can still open RealPlayer Downloader manually: open RealPlayer, then select Window > Open RealPlayer Downloader or click

above the player controls. (You can also add the agent later. See Preferences.)
© 2008-2012 <![CDATA[ ]]>RealNetworks, Inc. All rights reserved.